16 February, 2022
Foraging Guide: Rosehips
Posted in :
berry
,
easy
,
foraging
,
guide
,
natural
,
tea
on
by :
Jeanette Rueb
Tags:
berry
,
easy
,
foraging
,
guide
,
natural
,
rosehips
,
tea
I mentioned in a previous post that I would be expanding the scope of Apartment Eats to encompass some of my other kitchen-adjacent hobbies, including gardening and foraging. This will be the first official installment of a series of posts on foraging! Generally, I forage for ingredients I can use in tea, but occasionally, I'll go out and forage for snackables (like berries to bake into scones or ingredients for botanical infusions). Eventually, I'm hoping to get into mushrooms, but it'll be a while before I'm comfortable offering guidance on that subject given the potentially serious consequences of misidentification.
Today, though, we're going to talk about a winter forageable that I can almost guarantee you'll be able to find, no matter where you live: Rosehips! Whether they're wild roses or domestic roses, chances are good there's a place near you where you can find some rosehips. The main thing to consider when searching for the perfect foraging bushes is whether or not they've been spray-treated with pesticides. If you have access to wild bushes in your area, they're ideal candidates, but if not, domestic roses can work just as well.
Why Rosehips?
Not only are they a readily-available and easy-to-harvest berry that's perfect for beginners, rosehips are full of Vitamin C and antioxidants. Processing them is a somewhat time-consuming process if you gather a bunch at once, but there's nothing technical to it, and drying them in an oven takes next to no time at all.
Rosehips cannot be eaten straight off the plant. If you do, the little hairs inside the berry will wreak havoc on your intestines in a most uncomfortable way (imagine: Trying to digest a small cactus). That being said, once they've been processed to remove the seeds and hairs, they're a tasty little snack. Their flavor is somewhat tart, not unlike a slightly floral raspberry. The arguably more common use for rosehips, however, is drying them for tea, which is what we'll discuss in this article.
How to Harvest
When you head out to pick your rosehips, bring a jar or other container to hold your bounty. You'll want to harvest them after the first frost has passed, if not in the middle of winter as an excuse to get out of the house. The period of cold moisture endured by surviving on the bush during the winter allows the berries to soften and fully ripen.
At the bush, look for rosehips that are bright red, free from mold and parasites, and firm (as opposed to mushy) to the touch. Pluck them with a gentle twisting/lifting motion, breaking them off at their contact point with the branch. If the plant doesn't want to let go, leave that berry for the birds (as opposed to forcing it and potentially damaging the branch). Try to spread your harvesting out over several bushes if you can.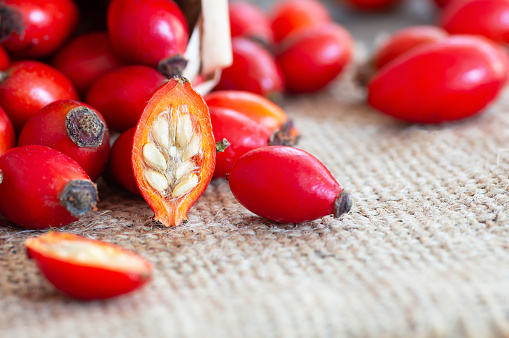 How to Process
Once you get your rosehips home, put them in a large jar and clean them with mild, unscented soap and water. Seal and shake the jar to build up suds. Rinse until clean, and pour into a bowl. Get out a second bowl for the processed fruits.
For this next part, you'll want to work over a sink. Take a rosehip and pinch off the brown tip where the flower used to be. If the berry is soft enough (which, if you harvested in winter, it ought to be), you should be able to pinch from the opposite end of the fruit and squeeze the seeds out the new hole you made by removing the brown bit. For firmer fruits, some sources suggest using a knife to halve the fruits and a spoon to scoop out the seeds. Personally, I found that unnecessarily cumbersome, but my rosehips have also all been pretty soft.
Take the de-seeded husk and toss it onto a baking tray. Repeat the process for all the hips you've gathered. You can wash the seeds down the garbage disposal, toss them in the compost pile, or throw them out in the yard for the birds. With a filled baking tray, preheat your oven to the lowest setting (use a convection setting if you have one), and dry the rosehips for about 15 minutes or until they're aromatic and about the color of dried cranberries. They should NOT be browned. If they end up browned, you've overdone them.
Remove the dried rosehips from the oven and let them cool before placing them in an airtight jar for storage. Keep your rosehips in a cool, dark place (like a cupboard or a pantry).
Rosehip Tea
One of my favorite uses for rosehips is rosehip tea. To make this, you can either mix the hips in with other dried herbs and flowers or use them on their own for a punchy, tangy Vitamin-filled tea. Pour 8 oz (one cup) of boiling water over 1 tsp of dried rosehips and steep for five minutes. Play around with other flavor combinations if you have other foraged teas at home. Rosehips go well with citrus flavors and with black teas.